JulieHootieScraps
YoFiend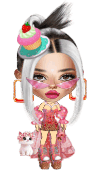 Status: Registered: Jul 11, 2009 Posts: 17101
Mon Sep 16, 2019 1:07 am
ChAoTiC (160142421) wrote:seems to be a layering issue. The railing is removable but the chairs still go on top. Ugh!!
Phooey! I find their artists have a hard time making deep enough porches with all their properties. This one is particularly so. I guess you could expand it a little, but that might throw off the layering even more. There's certainly space in the room so that the porches could be a little wider. What do we then do with the empty space below?
Sam, you've given poor Baby such a manly schnoz.